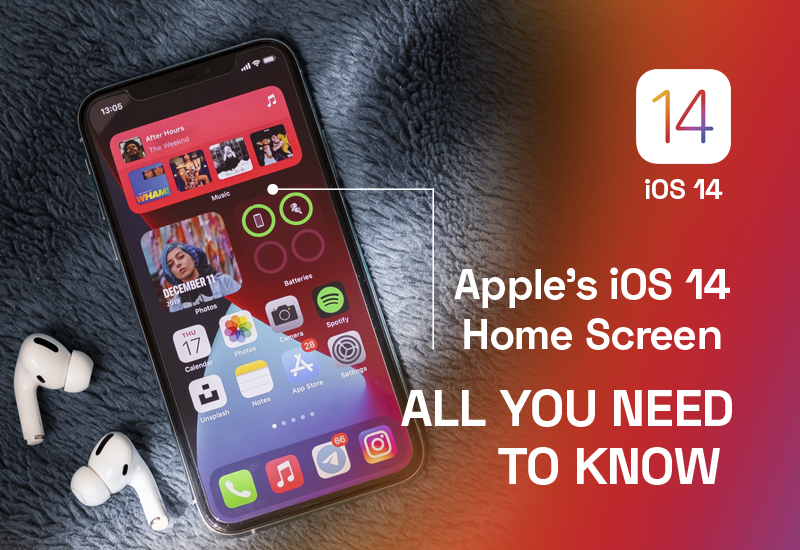 Apple has finally released its new update of iOS 14 last week which has changed the appearance after 13 long years. The users who have downloaded and installed iOS 14 update love this very new change and are looking for all the features that can be used on it. It is available to download in both iOS and iPad Operating systems. It is estimated that this new version consists of over 250 new iOS 14 beta features and changes. Few of the main changes are compact call interface, Siri, App Library, improved search, Home screen, Picture and Picture support, Custom shortcuts, Orange and green status bar dots, Alarm changes, Pin texts, and improved privacy and the list goes on. This gives wide opportunities to expert mobile app developers for showing their capabilities by creating apps including these features in their top mobile app development companies.
We will focus on how to use iOS 14 Home screen in the best possible way!
Apple has made its Home screen simpler and added more customization options with smarter suggestions. It can be customized in the way you want it to give you direct access to your information, products and services in a very faster pace.
Let us begin with these in detail:
APP LIBRARY
WIDGETS
APP CLIPS
App Library
This feature of iOS 14 App Library helps you de-clutter your home screen. App Library lists all of the downloaded apps in smartly organized folders that display the most recently/frequently used apps at the top. And it shows all the other apps by its type like Social, Utilities, Creativity, Reference and Reading, Games etc which lets the user access app easily.
How to use iOS 14 App Library: It can be accessed by swiping from right to left on your home screen. It won't let you change its organization since its automatic. However, you always have the option to find an app by searching its name. It gives us the option to hide pages which have the apps we prefer the least or don't use much. You can trigger your iPhone's "Jiggle Mode" that will rearrange the apps. The App Library has also another view, which shows us the list of all downloaded apps in an alphabetical order with a search bar on top.
Widgets
Widgets on iOS mobile applications were only available on 'Today View' on swiping from left to right on home screen earlier. But with this update, iOS 14 widgets has introduced freshly designed icons out of the 'Today View' directly to the home screen. It is also designed to include more space and richer content that makes these widgets more useful. The best part is that these can be customized in three sizes – small, medium and large which includes different amount of information. The iOS developers can now be able to build widgets with different sizes and unique designs that can blend with Apple's new options.
How to use iOS 14 Widgets: Tap and hold the widgets in 'Today View' and drag them to the home screen. You can also include more of these via 'Jiggle Mode' by pressing + icon. These can be customized in that same mode to your preferred size.
The widget of 'Smart Stack' lets you curate and flip through several widgets via 'Siri's Intelligence'. The content on it also keeps changing throughout the day, like weather in morning and news in afternoon.
App Clips
It is an amazing feature which lets the iPhone users to use an app without downloading it on the mobile device. App Clips of iOS 14 gives the user advantage of using such apps which they only require to use once/twice or such apps which they won't use again. Like if you need an app suddenly for a parking meter, filling fuel/gas or ordering food which you don't have in your mobile, it can be used via App Clips. It allows the users to log in using Apple sign in and make transactions using the payment systems of Apple like Apple Pay without having to download it.
How to use iOS 14 App Clip: The App Clips appears at the bottom of the screen and loads within seconds and completes a specific task without having an actual app. If an App Clip is available for the desired app, Apple iOS 14 App Clips can be accessed via different ways like by shared web links, text messages, Map apps, or by scanning Apple-designed App Clip code, using NFC tags and QR codes.
There are many more features down the list of Apple iOS 14 updates. It gives a wide range of options for the users to customize your mobile for ease. Businessmen can hire expert mobile app developers to integrate features compatible with this update to create customized rich featured iPhone apps from the best iOS & iPhone mobile app development company in India. At Digital Mesh, we also provide Android and Cross-Platform mobile app development services along with iOS app services to our clients.
Get in touch with our expert iOS and Android mobile app developers to discuss about your project or any query.