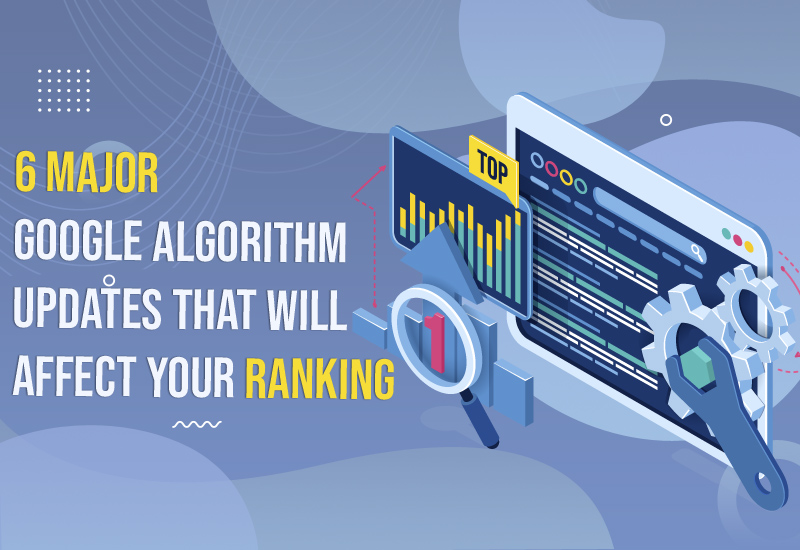 Google updates its search algorithm thousand times a year. In the majority of occasions, Google algorithm updates are too small to notice. But, every once in a while, Google introduces a change so fundamental, that it affects the way we do SEO forever. In this blog, we will discuss the 6 major Google algorithm updates that will affect your website ranking in 2021. Before that, we will discuss the definition of the Google algorithm.
What is Google Algorithm?
Google's algorithms are a complex system used to retrieve data from its search index and instantly deliver the best possible results for a query.
Courtesy Search Engine Journal
What are the 6 Major Google Algorithm Updates in 2021?
Passage Ranking
Product Reviews Update
Broad Core Algorithm Update
Page Experience Update
June 2021 Spam Update
Google Link Spam Algorithm Update
Let us discuss each update in detail.
Passage Ranking (February 10, 2021)
Passage Ranking is introduced for English-language search queries in the US. According to Google, passage ranking doesn't mean indexing only individual passages independent of pages. Google still indexing pages and consider content in the pages for ranking. But now Google also considering passages as an additional ranking factor.
Product Reviews Update (April 8, 2021)
Product Review update was introduced to reward "product reviews that share in-depth analysis, rather than thin content that just summarizes a group of products." In their product review update announcement, Google also shared 9 useful questions to consider while creating and publishing product reviews.
Express expert knowledge about products where appropriate?
Show what the product is like physically, or how it is used, with unique content beyond what's provided by the manufacturer?
Provide quantitative measurements about how a product measures up in various categories of performance?
Explain what sets a product apart from its competitors?
Cover comparable products to consider, or explain which products might be best for certain uses or circumstances?
Discuss the benefits and drawbacks of a particular product, based on research into it?
Describe how a product has evolved from previous models or releases to provide improvements, address issues, or otherwise help users in making a purchase decision?
Identify key decision-making factors for the product's category and how the product performs in those areas?
Describe key choices in how a product has been designed and their effect on the users beyond what the manufacturer says?
Broad Core Algorithm Update (June 2, 2021)
Google released another major broad core algorithm update on June 2, 2021. And followed by another core update in July. Google actually planned to include more into June 2 update, but couldn't get everything ready in time. That is the reason for bringing two core algorithm updates one month after another. This update aims to improve the quality of search results. And the impact of a core update is more noticeable than others.
Let us discuss the difference between Core updates and other updates.
What is the difference between a core update and other updates?
Many updates to Google Search results are focused on improving specific categories of results. But in the case of core algorithm updates it target search overall. And Core algorithm update is designed to increase the overall relevancy of search results.
Page Experience Update (June 15, 2021)
Another long-awaited Page Experience update has started rolling out from Jun 15. Sites should not expect to see serious changes as a result of this update, Google says, and any sudden drops should be reduced by the gradual rollout process. The page experience update will be finished by the end of August 2021.
These are the signals to achieve a "good" page experience score.
Core Web Vitals
Mobile usability
Security issues
HTTPS usage
Ad Experience
Spam Update (June 23, 2021)
The spam update start rolling out on June 23 and was completed on the same day. And the second part of the spam update starts rolling out next week and is completed on the same day as well. Google mainly rolls out spam updates to keep the quality of its search results.
Google Link Spam Algorithm Update (July 26, 2021)
Google launched an algorithm update aimed at identifying and nullifying link spam was beginning to roll out. After these updates sites taking part in link spam tactics could see ranking changes – with sponsored, guest, and affiliate content most likely to be impacted. Google said the algorithm update should be fully rolled out in "at least" two weeks and will affect multiple languages.
In the conclusion, I can only say that the growth and evolution of the SEO Industry are never going to end. There are many algorithm updates yet to be invented to keep the quality of its search results. At Digital Mesh, our vibrant teams of digital marketing experts make sure to keep themselves updated. They are ever ready to update your websites based on the latest Google algorithms.
Feel free to get in touch with our Digital Marketing Company in India in case you need any assistance in your projects.
Anurag K. S works as a Senior SEO analyst at Digital Mesh and has extensive experience in link building strategies. Passionate about marketing & branding, he keeps client satisfaction his #1 priority.