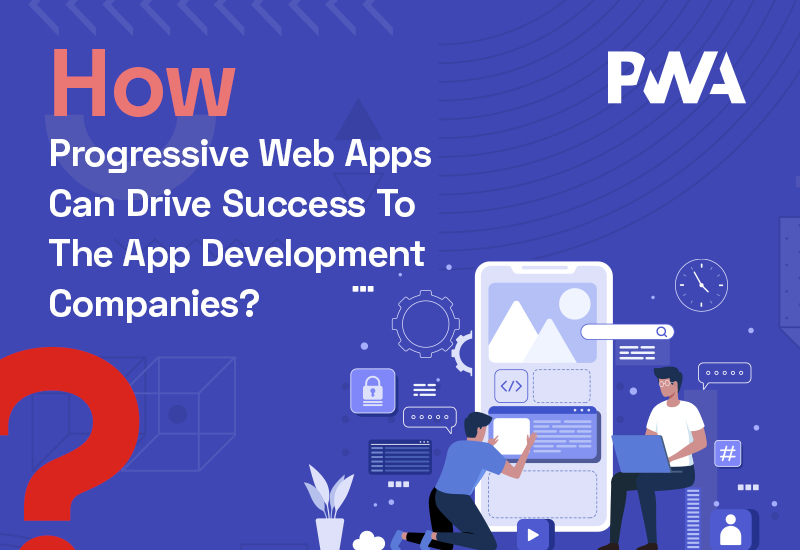 What are Progressive Web Applications? Why is PWA considered to be the future of mobile web applications? Let us find out answers to these questions ourselves via this blog.
Progressive Web Applications (PWA) was originally proposed by Google's Senior Software Engineer, Alex Russell in 2015. Progressive web applications are simple web applications developed to reach anyone, on any device with a single code base. PWAs are built with modern API's to deliver enhanced security, capabilities, reliability and install-ability to mimic platform-specific apps. These are the qualities that are incorporated into all the web applications in the top mobile app development company in India.
Progress web apps are exactly what people are looking for – a more reliable, fast, engaging and installable modern web application. There are many companies who have adopted this principle and their rate of success proves how useful these are. The digital giants like Twitter, Forbes, Uber, Pinterest, AliExpress, BookMyShow etc have switched to Progressive web applications. And all of these companies have openly accepted the positive effects they experienced in conversion rates, revenue, time spent, engagement, re-engagement, leads, etc after switching to PWA.​ You can check out the stats of these giants here.
The progressive web apps (PWA) give tough completion to future mobile apps since these supports:
Home Screen Icon
Push Notifications
Splash Screen
Geo Location
Offline Mode
Background Synchronization
Audio, Video and Camera Devices
Thus, PWA reduces the need of businessmen's to develop a separate mobile application for a website.
Progressive web apps (PWA) have got lots of benefits which can help drive success to businesses and web application development companies.
The best benefits of Progressive Web App are:
SEO Friendly – The features of PWA like having a mobile first responsive design, incredibly fast loading, offline availability, HTTPS server, reduced bounce rates, and cross browser compatibility support makes it great to rank high in Google.
Smaller Size – PWA are comparatively smaller than mobile applications. Progressive web apps play the main role if the mobile application is of huge size. PWA can be directly added to the home screen without downloading, which reduces all the time wastage occurring due to large mobile apps. The smaller size of PWA makes it a seamless addition to home screen makes its usage fast and easy.
Faster Load Time – The JavaScripts and service workers of PWAs runs separately from the main web thread. This ultimately increases the loading speed of the app, regardless of slow internet. PWA also offers an advantage of the reduction in server loads which helps to maintain the user experience and performance as intended irrespective of heavy traffic. The faster loading speed can help companies by increasing larger engagement rates leading to a significant boost in revenues.
More Secure – Since websites are not secure enough with HTTP, PWA are programmed to support HTTPs which helps to launch web apps in a secure environment. Users find it more comfortable to enter card details or personal information on websites with HTTPs.
Easy Fine-Tuning – Unlike the native mobile applications, we don't have to contact app stores and seek permissions to make tweaks in Progressive web applications. The app update or bug fixing via app stores can take a week or longer to deploy the updates in applications.  However, with PWA we can go ahead to fix errors and bugs right away. Moreover, PWA reduces the time and efforts of writing two different codes of Android or iOS mobile applications.
Offline Access – PWA gives access to contents offline via Service workers. It works in the background of Progressive web apps even when the website is not accessed. The Service workers help the app to work offline, send push notifications along with reloading content in the background, and start processes based on program logic. It uses cache and gathers API to quickly load the Progressive web apps.
Higher User Engagement – The giants who have personally used it have claimed that their user engagements have increased after switching to PWA. For Examples –

AliExpress – Observed a 104% increase in conversion rate and user visits doubled.  There was also an increase of 74% in user time spent on different browsers.
Forbes – The sessions per users were increased by 43 % with an increase of 6% in readers completing the articles. The engagement rate was increased by 2 times.
Low Developmental Cost- A single PWA meets the requirements of all the endpoints on which it works. It eliminates the number of efforts that mobile developers put in creating native mobile applications. The cost of developing PWA are said to be three to four times less than in native mobile app development services.
App like Look – The Progressive web apps provides advanced features with exact look and feel of mobile applications. The design and setting used in PWA are programmed very similar to native mobile apps.
Push Notification – Progressive Web Apps have access to device specific functionalities like Push notifications. It helps to make the best use of content advertising since 60% of mobile users allow PWAs to send in notifications. And notifications are one of the best ways to promote services or products. The companies can assess their target users via the push notifications and can also increase their brand recognition easily.
Due to the increase in demand for PWA, many organizations have started providing Progressive Web App tutorials and how to design apps on it. The PWA framework is said to replace the native mobile apps in future due to its benefits and ease of use. The expert web developers at our Software Development Outsourcing Company in India have expertise in providing Progressive Web App development services.
Get in touch with our mobile app development company for any query or assistance.