PHP (Hypertext Preprocessor) is one of the most popular yet oldest server-side programming languages. It was originally invented by Danish-Canadian programmer Rasmus Lerdorf in 1994. Since then, PHP computer language has gained a lot of popularity and fame. Yes the worldwide usage of PHP has reduced from 80% to 79% in a year according to w3techs.com, but it can't state PHP to be a dead language.  This means almost 8 out of every 10 websites there on internet are using PHP in some way. Their below stats reflect how PHP has managed to stay at 79% throughout the year which is commendable.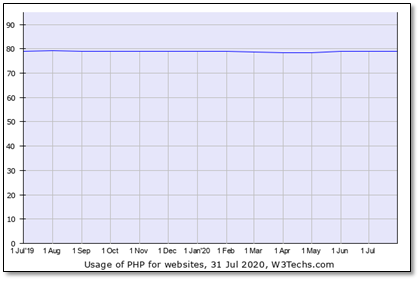 The emergence of new powerful computer languages like Python, node.js, C# is the reason behind the shrinking PHP usage. However, the popular global giants like Facebook, Wikipedia, Zoom, WordPress, Drupal and Joomla are still using PHP solutions. There are many Offshore Software Development Companies in India who prefers PHP to build their websites. Many new well-known sites like craigslist.org and grammarly.com are also running perfectly over PHP.
Some huge companies like Amazon do not use PHP and has kind of banned this language there due to security reasons in 2014 or 2015. Although the Amazon Web Services offer SDKs for multiple popular programming languages .NET, Java and the JVM, Python, Ruby, Node.js including PHP.  
Python is currently the most preferred computer language on the planet for Machine Learning and Artificial Intelligence (AI).  And if someone prefers other languages instead of PHP doesn't mean that it's dying or dead. PHP and Java have long standing future in website development services of the PHP Development Companies in India.
PHP development services have become faster and better than ever now. Hire PHP Developers who have experience in the latest super cool versions of PHP. The version of PHP 7.x is used by 54.2% of all the websites who use PHP which is very fast and secure. The PHP 7.4 has brought a lot of improvements for PHP developers to create scalable and secure PHP Website Development Services. 
One of the biggest advantages of PHP solutions are that it is readily available almost everywhere. And this fact also makes it extremely easy to find and Hire an Expert PHP Developer as compared to other languages. It has been around since long time.                
To stay relevant in the PHP web development service market, it is advised to be updated, keep learning and evolving with the rising technology. There is a lot of demand in PHP based CMS Development Services like Drupal, Joomla, Magento, OpenCart etc.
Our Dedicated PHP Programmers at Digital Mesh are well experienced in providing excellent custom PHP Web development services. We provide all kind of PHP Outsourcing services to our global clients in our Offshore PHP Development Company in India.
Get in touch with us for affordable and efficient PHP development services.