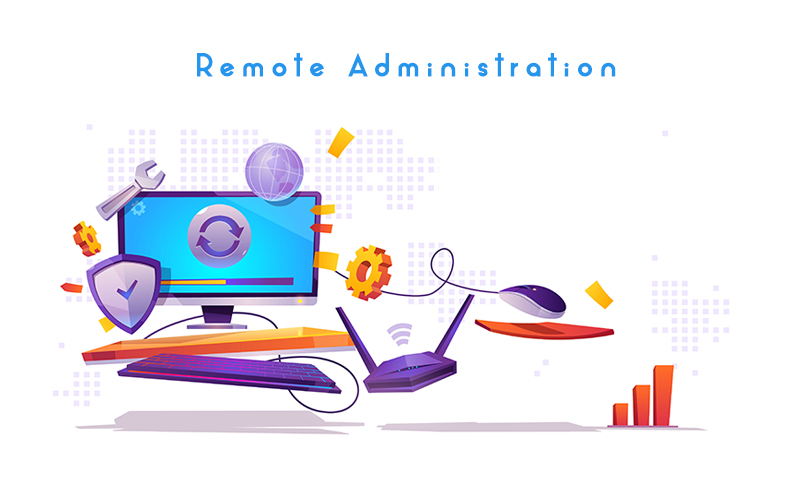 Remote admin or remote administration is a way to monitor and manage a computer from a remote location without physically being in front of it. Remote administration can work on any computer having a Local Area Network, Internet connection or IP. You need to install or enable server software in order to be viewed or accessed by a non-malicious remote administrator.
The built-in remote administration packages are available as 'Remote Desktop Connection' in the certain versions of Windows XP. There is another similar free cross-platform system called Virtual Network Computing (VNC) that follows the Remote Frame Buffer protocol (RFB) to remotely control other computers.
The common functions that are performed using the Remote administration are –
Rebooting or shutting other computers down over a network.
Remotely connect to the machine to troubleshoot its issues.
To install software on another machine.
To monitor or supervise others for assistance.
There are various methods to access the remote machines, out of which the direct Local Area Network (LAN), Virtual Private Networks (VPN), Privileged Access Management (PAM), and Microsoft Remote Desktop Services are the popular ones. 
Top 5 advantages of having a remote administration are:
Ensures security to the user
All the files and documents are safely stored which ensures minimal chances of data loss. The data of all the Web Application and files of the computer are stored as the software rather hardware which allows only you to access it. Remote administration also keeps the data secure from virus threats and hackers. Whenever someone else tries to login with unsuccessful attempts, the Remote management and monitoring software (RMM) recognizes it and prevents such security breaches.
Remote administration can be applied to keep the machines updated and well maintained. Hence the system's health and security can be monitored regularly which saves money on the Application Maintenance Services. There is no need to worry about the repairs or server purchase or hiring people for it. It continuously watches the technology trend and makes sure that you can access your data and do the work you need to do. It also saves the travel expenses since these can be done from a remote place.
It helps us work practically from anywhere in the world and gives us the flexibility to choose the workplace of our choice. All you need for working is a computer with a source of internet. With Remote Administration, it doesn't make any difference where the server computers are located. The whole team can work from different locations over the same network despite the location.
It is a perfect tool to keep the systems healthy by regular monitoring. The servers and machines can be watched 24/7 and anything that causes the downtime or malfunctioning can be noticed and stopped quickly. All the issues related to the system can be solved with immediate access using remote administration.
Increases the Productivity
While the Remote administration monitors and maintains the system, you can focus completely on increasing the productivity and performance of your business like all Software Development Companies does. It supports growth by giving us immediate solutions to every system related issues. And it also provides quick and effortless access to the files on connected devices or networks.
The DevOps Services have made ours and our client's life easier. The IT system administrators at Digital Mesh provide multiple services including installing, configuring, maintaining systems and servers. The Remote administration services have increased our efficiency by ensuring our high-level security and performance. We also help our clients by providing them with the best remote database administration services.
Get in touch with us to know more about our remote administration services and how we can get you the best out of it.