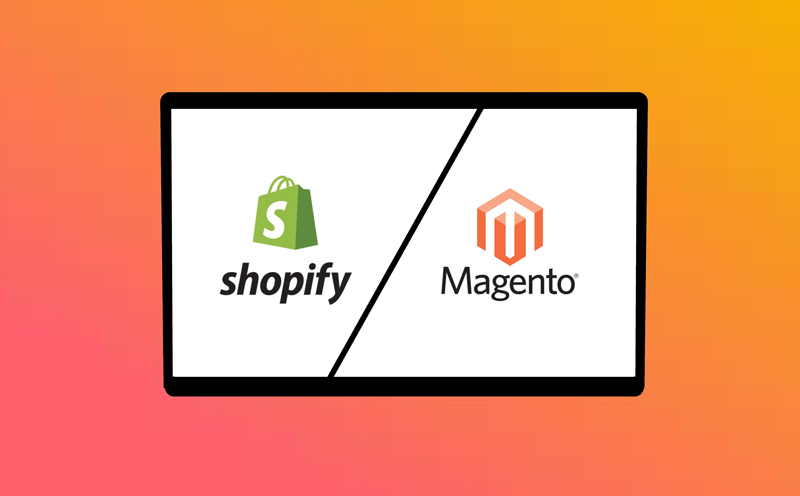 Magento and Shopify are two very popular e-commerce platforms for creating, managing and maintaining online businesses. There are various other E-commerce Development Platforms too in the market, but these two seems to top the list. Here is a list of some of the major differences between the two.
Shopify is a hosted commercial platform (needs to be paid)
Magento Open Source is a free and open-source self-hosted platform
Shopify is a super easy e-commerce platform to use for anyone, be it a beginner web developer or Freelance Web Developer to build an online store. It's preferred by both small scale as well as high volume stores and a transaction fee is charged per sale/month for using it.
Magento is an open-source powerful platform but it's not as simple to implement as Shopify Development. You will require some technical skills to install & run a Magento store.
Let's compare the features here to get a closer view!
A quick look at the numbers will help us know the credibility of these platforms. According to stats, 600,000 Sites are said to be powered by Shopify and 250,000 sites by the Magento. The number of Apps and Add Ons is around 5000 in Magento, which is more when compared to Shopify at 2400.
As already mentioned, Shopify is easier and can also be used by non-developers. It is a one stop shop, drag and drop, easily customizable interface. It's quicker to add products and set up payments. It also consists of great customer support just in case required.
Magento is a flexible platform based on OOP and MVC architecture. There is lot of technical terms that can lead to stumbling blocks when navigating for first time. And, Magento lacks 24/7 customer support like of Shopify. They have an extensive user guide having step by step process explanation for user reference.
The theme of a page is what makes the customers stay as the first impression and inspires them to build trust. Shopify have over 60 beautiful and customizable themes. These are mobile optimized and also zoom feature.
Magento offers 16 free and paid themes, in which 10 are completely mobile optimized. But with Magento Development Services, you have the advantage of creating your own powerful feature rich theme from scratch with the help of coding. Both of the platforms have free as well as paid themes to choose for.
Connecting to Payment Systems is possible with just a few clicks in both Shopify and Magento. Shopify has an integrated processor called 'Shopify Payments' which allows to manage the payments directly in user dashboard. You'll be charged transaction fees ranging from 0.5%-2% on each sale if you use other payment gateways like PayPal.
Magento takes the support of payment processors from marketplaces like Stripe and Braintree. It has over 150 payment integration apps set in. Magento offers a range of payment processors that support different countries and languages, which is great when you look for having an international store.
Shopify does have a couple of translational apps to help in international platforms.
Both of the platforms offer good Search Engine Optimization and have similar features. However, the 'SEO Booster' of Shopify comes free and helps rank high. Magento also has a good SEO options, but some of the Magento SEO apps costs around $300.
Hope this article has helped you clear your mind on both the platforms. In short, Shopify is more users friendly but Magento has more power. In our E-commerce development company, we have been providing these services for many years now. At Digital Mesh, our web developers and digital marketing team not only helps in integrating or migration of these platforms but also to help to maintain their sites and boost site performance.
Get in touch with us to find out how we can help you create a cost effective online presence.