E-commerce had been steadily gaining momentum across the globe during COVID – 19 pandemic. It has been a defining event of 2020 that will have its implications last long even in coming decades. Due to lockdown and limitation of brick-and-mortar stores, people have naturally turned more to online shopping.
Initially, people were afraid of online purchasing due to unpredictability of this virus as it was stated by experts that these can stay in a viable form over objects for three hours to up to three days and may spread it. However, WHO and CDS confirmed that there was a very low risk of spread from products or packaging that is shipped over a period of days or weeks.
As soon as it was declared a pandemic, a wave of panic buying was observed where people kept on stocking up things which resulted in shortage of items. Eventually it became difficult for the stores to keep up with the growing demand due to the lock down and social distancing. This was the point when Indian government mandated ecommerce companies like Amazon and Flip-kart to only fulfill orders of essential goods such as groceries and medicines. According to the recent update, government has allowed the ecommerce firms to resume full operations in Green and Orange zones from May 4, 2020. However, deliveries are still limited to essential items in high risk Red zones.
It was predicted by the business researchers that the growth in Indian e-commerce market would reach 200 billion US dollars by the year 2026. Post outbreak, the recent trends suggests that this goal may be achieved a lot sooner due the jump of consumers for online deliveries amid the fears of possible infection. The pandemic has caused an increase of demand and supply in the e-commerce sector.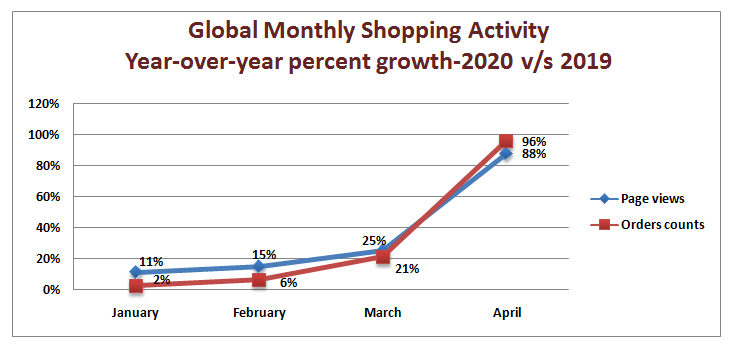 Based on the data from Bazaarvoice, the growth of ecommerce was massive in March 2020, but it grew even faster in April 2020. All their indicators like page views, order count, review submission and question submission showed a growth rate of more than 3 times the numbers in March.
No one knows when this is going to get okay, and people have now started to accept and blend with the challenges. Almost all business men are upgrading to e-stores platforms for maintaining their sustainability. Even the hyper-local shops like kirana stores are on the verge of getting digitalized with the help of Reliance and government. Online food selling platforms like Swiggy and Zomato have incorporated contactless deliveries to reduce the fear of hygiene among consumers and continue their businesses. Apart from these, the platforms like gaming and Netflix has reportedly added a whopping 15.8 million paid subscribers in the first three months of 2020. All these numbers show how COVID has impacted the ecommerce globally. In a longer run, the growth of e-commerce would depend on how efficiently companies respond during this period. The competition among e-stores is going to rise with the growing demands of ecommerce. And the requirement of e-marketing and advertising would also rise. Contact us if you have any plans to digitize your idea. We have a team of expert software and e-commerce developers in Digital Mesh who have proven record of delivering successful projects for over 20 years now. We would be more than happy to provide you any assistance.
Get in touch with us to find out how we can help you create a cost effective online presence.