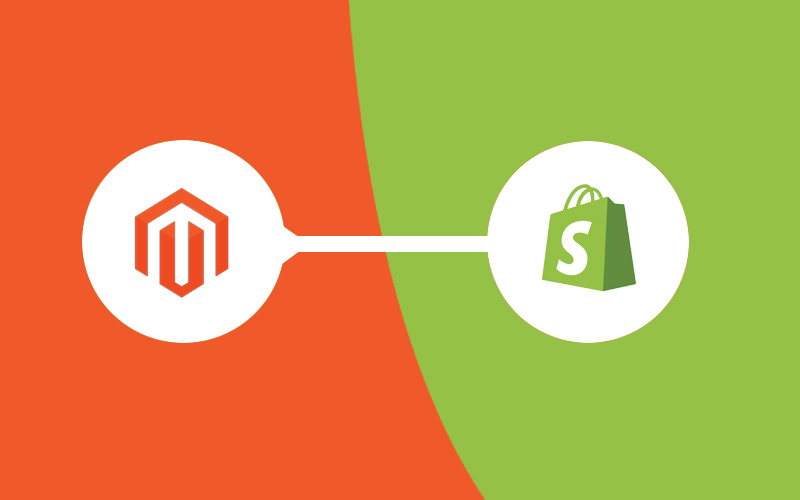 Moving e-commerce platforms is one of the biggest decisions a company ever has to make. If not selected or processed properly, it could lead to loss of money, time and labor. Out of the popular E-Commerce Development Services like WooCommerce, BigCommerce and Wix, migration of enterprises from Magento to Shopify is the most common one. Both of these platforms have its own strengths – Magento offers immense configurability whereas Shopify simplifies deployment and backend system management.
The three main reasons businessmen decide to migrate e-commerce platforms are –
Due to growing financial needs,
When the present platform's technology becomes out-dated and no longer supported by Web Application Developers,
When it becomes difficult to manage the marketing content and face integration problems.
According to the analysis performed by Cart2Cart, the statistics shows that most demanding shopping carts that merchants have chosen to migrate to in 2019 are Shopify. Shopify has proven itself to be the most popular platform by ranking first. It is followed by WooCommerce and Magento.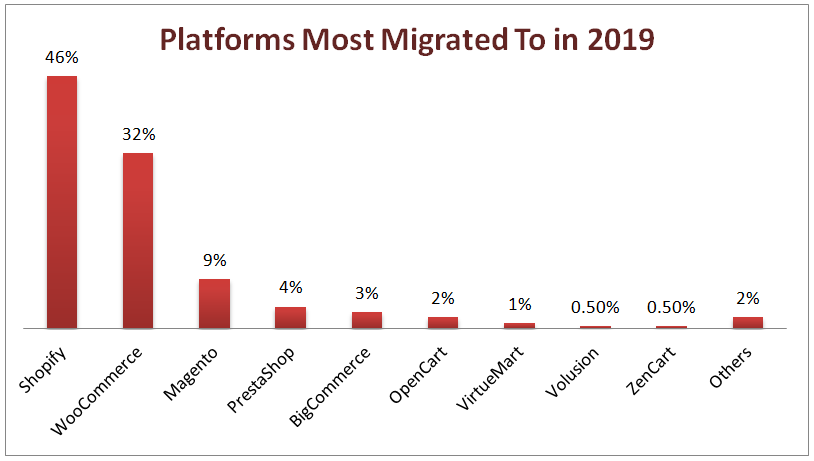 The studies of Cart2Cart also states that among the other platforms, 10% of migrations happen from Magento to Shopify and only 1% is migrated to Magento.
If we focus particularly on Magento and Shopify, two main drawbacks of Magento are –
Technology – Its highly customizable framework requires immense technical support to manage and maintain the logistics and features.
Cost – Although Magento Open Source is free but the deploying and maintenance costs can grow more expensive over-time and the programming demands increase as the business scales up.
The best thing about a Shopify switch is that you can try it before buying! You can run a free demo migration to check the performances and results. This will help you see if it is what you are expecting and gives the reassurance while making the move.
Shopify is a completely device optimized and Cloud-Based Platform. It enables to market the products on various social media channels like Facebook, Pinterest, Instagram, eBay and Amazon. It also offers a 24/7 effective support line to customers.
The plug-and-go appeal of Shopify site has been designed to be super-easy and can even be processed by a non-technical user. It just takes a few seconds to install and configure your app into Shopify site. You can go for Shopify Plus if you intend to sell on a large scale and have sophisticated add-ins and widgets. Shopify Plus can support thousands of SKUs and transactions with ease.
Another reason that's encouraging merchants migrate on Shopify is its capacity for analytics. The built-in analytics enables Google Analytics enhanced e-commerce which can easily track the order success conversion rate. This data can be used to implement good marketing strategies and optimize Web Applications Development.
Following are the three points which can help if you are planning for a migration –
The Categories in Magento are available as Collection in Shopify.
The Tags in Magento are seen as Attributes in Shopify.
And all the products in Shopify are SKUs.
There are many more benefits of using Shopify, and we advise that you take help of an expert Shopify Development Company to migrate your site. At Digital Mesh our skilled web developers have extensive experience in helping many global clients get on the Shopify platform with multiple Payment System Integrations. Hope this article has helped you make an informed choice.
Feel free to get in touch with us if you have any questions with e-commerce.